Micro Automation
Basic Controllers (SIMATIC S7-1200)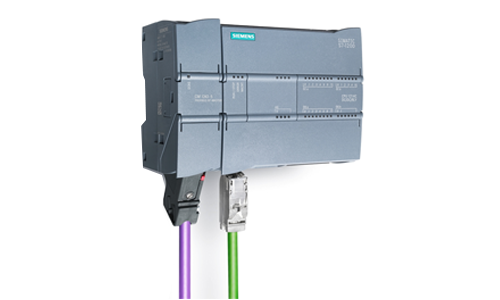 Automation solutions must be compact, scalable and flexible. S7-1200 CPUs are available as standard and failsafe versions. They are scalable in terms of their performance and are equipped with integrated IOs, inte-grated PROFINET interface for programming, HMI connections, distributed IOs and distri-buted drive architectures. The S7-1200 can be optimally adapted to your individual requirements by means of pluggable signal modules and communication modules.

The new modular SIMATIC S7-1200 controller is at the core of our new offering for simple but highly precise automation tasks. The SIMATIC S7-1200 controller is modular and compact, versatile, a secure investment, and is perfectly suited to a whole range of applications.

The S7-1200 CPUs with Safety Integrated handle both standard and safety-related tasks. A compact design with integrated IO, communi-cation interfaces that meet the highest industry requirements and a range of powerful integrated technological functions make this controller an integral part of a comprehensive automation solution.

The compact SIMATIC S7-1200 system consists of different CPU performance classes: CPU 1211C, CPU 1212C, CPU 1214C, CPU 1215C and CPU 1217C and two failsafe versions CPU 1214FC and CPU 1215FC. Each of these may be expanded according to the machine requirements. The S7-1200 CPUs can be expanded with up to three communication modules (CM) and eight signal modules (SM).

Signal modules and signal boards can be integrated in order to expand the digital or analog IOs without affecting the physical size of the controller.

Signal modules can be connected to the right side of the CPU to further expand the digital or analog IO capacity. CPU 1212C accepts two, CPU 1215C and CPU 1217C accept eight signal modules.

All SIMATIC S7-1200 CPUs can be equipped with up to three communication modules on the left side of the controller – this enables seamless serial communication and the use of various distributed IO devices.
Integrated PROFINET Communication:-
SIMATIC S7-1200 supports communication via PROFINET – the open, manufacturer-independent standard (IEC 61158/61784). PROFINET is 100% Ethernet and stands for maximum transparency, open standard communication via TCP/IP, network security and simultaneous real-time communication.

The integrated PROFINET interface in SIMATIC S7-1200 can be used for programming the CPU and for communication with SIMATIC HMI Basic Panels for visualization, but also for communication with other controllers or IO devices such as drives.

The PROFINET cable is connected by means of a noise-immune RJ45 port with auto-crossover functionality supporting Ethernet connections and providing data transmission rates of up to 10/100 Mbit/s. For quick and error-free installation or changes on site, with FastConnect Siemens offer a sophisticated quick-assembly system consisting of cables, plug-in connectors and assembly tools.

One of the advantages, thanks to PROFINET, is the integrated Web Server of the SIMATIC S7-1200. By means of the integrated Web server, information about the CPU as well as process data can be retrieved via a standard web browser. Data can also be archived from the user program during runtime. Furthermore, in firmware version 4.0, the CPUs possess the PROFINET iDevice functionality. The simplest way to configure multiple S7-1200 CPUs into a master-slave architecture: Each CPU process image is individually written and read.
Simple Networking:-
To minimize the cabling overhead and maximize the network flexibility, the CSM 1277 compact switch module can be used for configuring a homogenous or hybrid network – in linear, tree or star topologies. The CSM 1277 is a 4-port unmanaged switch which allows you to connect the SIMATIC S7-1200 with up to three additional devices.
Our Products